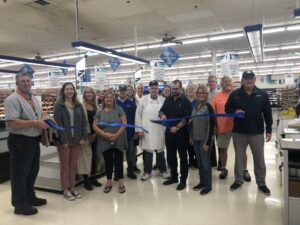 The Oconto Falls Chamber of Commerce is proud to welcome new member, Iverson's Piggly Wiggly!
Iverson has been a long-time employee of the store and is making changes to upgrade the facility in both public-facing areas and behind the scenes. New to the store are self check-outs, energy-saving screens on open dairy cases, freezer doors, and the constructed car wash behind the store. Renovations have started with a new store layout and will continue to be added.
The ribbon cutting was held on Monday, October 11, 2021, and was celebrated by new owner, Bryce Iverson, employees of the grocery store, and other chamber members. A light breakfast and coffee was available.