MISSOULA CHILDREN'S THEATRE PRESENTS THE PRINCESS AND THE PEA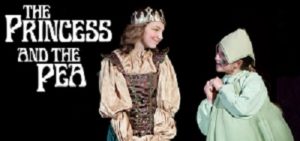 What do Glacierdom and Riverdom have in common?  The Leprechauns know! Get a new look at a classic story this Saturday, August 4, 2018 when the Missoula Children's Theatre and more than 40 local students present an original musical adaptation of THE PRINCESS AND THE PEA.  Performances will be held at 12 noon and 2:30 p.m. in the Falls Area Performing Arts Center, located in Oconto Falls High School.
Envision a kingdom of snow where the residents are Winter Wind Workers, Blizzard Bringers, Icicle Sharpeners and Snow Smoothers, ruled by the Storm King and the Snow Queen. Add to that a Prince looking for a proper Princess to share the throne. Now imagine the Princess and her friend the Pea living in a kingdom of green rolling hills and running rivers with her subjects, The Flower Gardeners, River Runners, Green Shoot Growers and Tree Barkers. Her parents, King Size and Queen Size, do all they can to keep things running smoothly. Who knows, maybe the dancing Dust Bunnies can help? Although the two kingdoms think they have nothing in common (except maybe a pesky Jack Frost that freezes anything and everything), the peace-loving Leprechauns prove otherwise. Throw in some Phony Princesses and you have a real fiasco! This is not your grandma's PRINCESS AND THE PEA. We think you will enjoy its twists and turns!
The Missoula Children's Theatre residency in Oconto Falls is brought to you by the Oconto Falls Friends of the Arts with support from sponsor Neva Hodge Lemorande and in conjunction with the Oconto Falls School District Summer School Program.
General admission tickets are $13 for adults and $8 for students and will be available at the door.  For more information, call the Oconto Falls Friends of the Arts at (920) 848-7469.