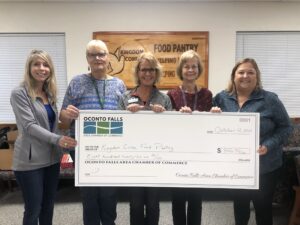 The annual golf outing hosted by the Oconto Falls Area Chamber of Commerce and Oconto Area Chamber providing much entertainment and networking, but also was able to raise funds to local food pantries. The Oconto Falls Area Chamber donated roughly $825 to Kingdom Come Food Pantry in Oconto Falls.
During the recent check presentation held on October 12, 2021, a few of the board members were given tours of the facility. The pantry has been able to support over 600 families during the peak of COVID, and maintains an average of about 250 families weekly. All of the support to clients is done by a group of dedicated volunteers, showing up weekly to ensure others' needs are met.
The facility has grown over the years, quickly being filled with needed items for the community. Walk-in coolers and freezers have been critical in providing plenty of grocery goods and dairy products. Another addition is the Retail Store, which is filled with new or gently used clothing and home goods at below-retail prices. A diaper drive is also available to clients once per month.
For more information about the pantry and how you, too, can help, please visit: https://www.kingdomcomefoodpantry.com/