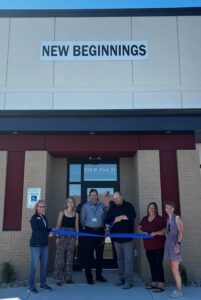 New Beginnings Resale Store and New Heights, which fall under the umbrella of services offered by New View Industries, opened their doors June 17 with a ribbon cutting held with the Oconto Falls Area Chamber of Commerce. The new 6,000 sq. ft. building, located at 228 W. Park St. in Gillett, houses the New Beginnings Store as well as program space aimed at assisting disabled youth and adults at New Heights.
New Beginnings is currently open, but mark your calendar for their Grand Opening on Saturday, July 9 offering specials, treats, and a chance to win prizes!
This building project was made possible through funding provided by the Community Development Block Grant, a federal program focused on community development.
"Many people were instrumental in making this addition possible," said Kline. "I'd like to thank the Oconto County Board, Health and Human Services Board, the City of Gillett, former Health and Human Services Director, Mike Reimer and former Oconto County Administrative Coordinator, Kevin Hamann."
New View Industries is a non-profit training facility for individuals who are intellectually/physically disabled or who have other barriers. Their mission is to provide participants with outstanding vocational and skills training to help them achieve greater independence in all aspects of their lives.