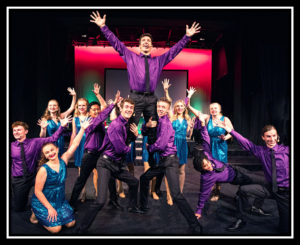 Join us for an incredible evening of music as THE WISCONSIN SINGERS, with opening act ENCORE!, perform on Saturday, April 2, 2022 at 7:00 p.m. in the Falls Area Performing Arts Center.
The Wisconsin Singers, the University of Wisconsin-Madison's premiere entertainment company, is
proud to present its newest show, Come Alive! Featuring stunning vocals, Broadway-caliber choreography, big band sound, and Badger spirit, audiences of all ages are sure to be entertained as UW's most talented students take to the stage.
Come Alive! celebrates the thrill of live music from the past five decades of American Pop music. Covering more than 40 songs in this exciting and fast-paced show, Wisconsin Singers highlight some of the music-industry's greatest artists ranging from Elvis Presley and the Four Seasons to Lady Gaga and Elton John. Wisconsin Singers will win your heart with award-winning Broadway show-stoppers from musicals like Kiss Me Kate, Pippin, and Chicago. And kids of all ages will delight in their favorite songs from Frozen, Peter Pan, and the ever popular superhero cartoons. Badger fans will bring down the house as they sing along with Bucky to Fifth Quarter classics like "On Wisconsin," Varsity," and of course, "Jump Around." And to cap off this unforgettable production, the celebrated Wisconsin Singers' band showcases its special blend of jazz, funk, and classic rock like never before. Come Alive! is guaranteed terrific entertainment for the whole family!
The Opening Act ENCORE! will feature students from grades 4-12 in the Oconto Falls School District who will sing and dance to several Broadway and Pop selections! They will also join the Wisconsin Singers in a special musical selection.
"We're thrilled to be hosting the Wisconsin Singers for an upbeat, entertaining night!" Amy Thiel, OFHS Choral Director, director of Encore!, and coordinator for the performance said.
Tickets $15 for adults and $10 for students. Tickets available at the door and online at https://ofps.revtrak.net/ Doors will open at 6:30 p.m. All tickets are GENERAL ADMISSION.
This event is made possible through the support and sponsorship of Kurt and Diane Gruett.