Everyone enjoys a good laugh, and the community theater in Abrams will be rocking with laugher this summer. Abrams Spotlight Productions Inc. is looking for actors who enjoy making people laugh – without cracking up themselves!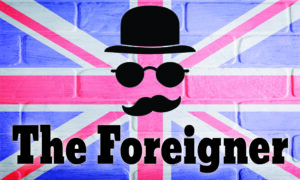 Mike Eserkaln, the artistic director of Comedy City in De Pere, will direct the ASPI summer comedy, "The Foreigner." "The Foreigner" is a funny, two-act comedy by American playwright Larry Shue, who also wrote "The Nerd."
The show will be presented June 16-19 and 23-26 at the Nancy Byng Community Theater, 5852 Maple St., Abrams. Eserkaln was last seen on the ASPI stage in "A Funny Thing Happened on the Way to the Forum." He understands comedy, and he's looking for men and women, ages 15 and older, who love to make people laugh.
Actors will have two opportunities to auditions: anytime from 6-8:30 p.m. Tuesday, April 26, or Wednesday, April 27, at the Nancy Byng Community Theater. Everyone auditioning will be asked to do a short reading from the play. No prep is necessary.
Virtual auditions are available for those unable to audition in person. To schedule a virtual audition, contact ASPI at 920-826-5852 or theater.aspi@gmail.com.
The story takes place in a fishing lodge in rural Georgia where two Englishmen, Froggy and Charlie, arrive as guests. When people at the lodge try to talk to Charlie, however, he remains silent and claims to not understand English. Taking the explanation that he's a non-English speaker as fact, the lodge's guests quickly begin revealing their secrets, and Charlie soon discovers scandals amongst some of the residents of the lodge.
The comedy received two Obie Awards and two Outer Critics Circle Awards, including Best New American Play and Best Off-Broadway Production.
For more information about auditions, visit abramsspotlightproductions.com or call 920-826-5852.