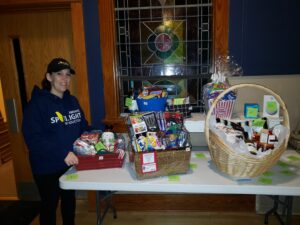 Support the arts by participating in the online auction benefitting Abrams Spotlight Productions Inc., an Oconto County community theater organization. More than 60 items are up for grabs, including sailing cruises, golf packages, hotel stays, and homemade candy, cookies, and dinners. The auction also features theater-related prizes like season tickets, a cameo appearance in an ASPI musical, and in-person performances by characters from "Beauty and the Beast" and "White Christmas."
The ASPI Spotlight Auction opens at 12 p.m. Thursday, Dec. 8, and ends at 8 p.m. Sunday, Dec. 11. Prize pick-up is scheduled from 12-6 p.m. Monday, Dec. 12, at the theater, 5852 Maple St. Abrams. Merchandise is sorted by category for easy viewing and bidding online. To view prizes and place a bid, visit biddingowl.com/ASPI.
ASPI is a 501c3 nonprofit organization that presents musicals, comedies, and dramas at the Nancy Byng Community Theater. The theater is operated solely by volunteers, and proceeds from the auction help bring high-energy, live entertainment to the community. ASPI currently is running two capital campaigns to raise funds for a new sound system and roof.
ASPI thanks all of its supporters, especially the local businesses and individuals who donated to the auction. To learn more about ASPI, visit AbramsTheater.com.