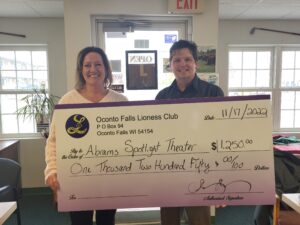 Abrams Spotlight Productions Inc. launched its Raise the Roof campaign with a $1,000 donation from the Oconto Falls Lioness Lions Club. Stephanie Holman, president of the club, presented a $1,250 check to Bill Koehne, president of ASPI, with $1,000 earmarked for a new roof and $250 for a new toilet. Holman said the donation to ASPI fits well with the Lion Lioness Club's mission to serve the community.
"The theater gives unique life experiences to a diverse group of people in our community, whether they are attending the live performances, the actors, or working behind the scenes. We feel it enriches our community, especially with the youth and the veterans," she said.
"It's exciting to have a local organization like the Lioness become our initial donor in kicking off the Raise the Roof campaign," Koehne said. "Within the first couple of weeks, other donors stepped up to contribute an additional $2,500, but we're still a long way from achieving our goal."
The theater hopes to raise over $30,000 for a new roof. Koehne encouraged people to become Spotlight Sponsors, either Silver ($100), Gold ($250) or Platinum ($500). All sponsors receive early access to tickets and recognition in show programs. Gold and Platinum sponsors receive two or four tickets, respectively, to each show.
Approaching its 20th season, ASPI performs three or four shows every year at the Nancy Byng Community Theater, formerly St. Louis Catholic Church in Abrams. The facility, built in 1927 and home to ASPI since 2007, has undergone a series of transformations. These include the construction of a stage with modular set booms, backstage dressing rooms, a concession stand, a light, sound, and projections booth, and restoration of the original hardwood floor. ASPI built an outdoor patio and replaced the old church pews with more comfortable, padded chairs. The roof is the next project on the list.
The latest ASPI show, "White Christmas," will be presented in eight performances, Dec. 1-4 and 8-11. An anonymous donor provided 50 free tickets to veterans, and the eight shows sold out by mid-November. So, a ninth, Raise the Roof show was added on Dec. 6.
"All but seven seats sold out within the first 72 hours," Koehne said, referring to the Raise the Roof show. "What a tremendous show of community spirit and support of community theater."
Only single seats are available for "White Christmas," and the box office has a waitlist in the event of cancellations.
Over the past 20 years, ASPI has presented many amazing shows for the community to enjoy. None of these performances would be possible without the theater's volunteers and sponsors. To make a tax-deductible donation, visit abramstheater.com and click "Support."