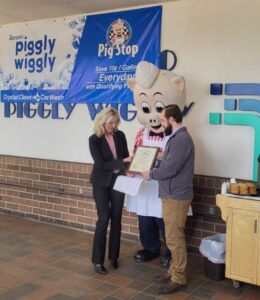 Bryce Iverson, owner of Iverson's Piggly Wiggly of Oconto Falls, was awarded the Exemplary Employer Award from the State of Wisconsin – Department of Vocational Rehabilitation (DVR). Each October, during National Disability Employment Awareness Month, Wisconsin Workforce Development Area (WDA) 5 chooses one award winner from Brown, Door, Florence, Kewaunee, Manitowoc, Marinette, Menominee, Oconto, Shawano, and Sheboygan counties. An award presentation was held on Thursday, October 27, 2022, with Meredith Dressel, Deputy Administrator of DVR; Jennifer Bscherer, Director of WDA 5; Whitney Hostettler, Supervisor of WDA5; and Lynn Hardginski, Business Services Consultant. Iverson was surrounded by staff from the location, including Mr. Pig, and board members from the Oconto Falls Area Chamber of Commerce.
Danielle Kline, Employment and Training Specialist with New View Industries, nominated Iverson for the award, "because he (Iverson) sees a person's abilities, not their disabilities." She continued, "Bryce has created a culture of natural supports within the store to help support people with disabilities. Bryce and his employees deserve to be recognized for their outstanding partnership and support for the community."
DVR provides services such as career and guidance counseling, job search and placement, transition to work services for students with disabilities in high school, vocation and other training, job shadows, and more.
Congratulations to everyone at Iverson's Piggly Wiggly!