Now taking appointments in communities throughout Northeast Wisconsin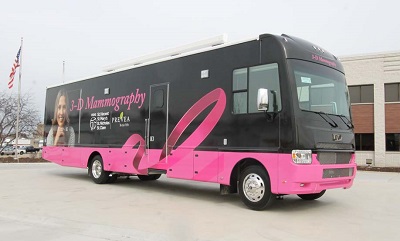 Green Bay – Prevea Health and Hospital Sisters Health System (HSHS) – Eastern Wisconsin Division are pleased to announce the launch of a 3-D and digital, mobile mammography unit to provide residents in rural areas greater access to breast health screenings.
The mobile mammography unit is now traveling on a regular basis to Prevea Health centers in Kewaunee, Luxemburg, Manitowoc, Shawano, Pulaski, Seymour, Oconto, Marinette, Gillett, Mountain and Lena – with additional locations to be added in the future. Appointments can be made now by calling (888) 277-3832.
"High-quality health care, especially preventive health services and screenings should never be difficult for anyone to find," said Dr. Ashok Rai, President and CEO of Prevea Health. "It should be readily available and close to home when you need it – and that is why we're here. This is state-of-the-art technology on wheels that, with just some gas in the tank, can provide life-saving care to communities all across Northeast Wisconsin."
The mobile mammography unit is equipped with mammography technology that has the capability to provide 3-D and/or digital images. It also features two changing rooms and a waiting room, and is staffed by a registered mammography technologist.
"Mammograms provide us an X-ray image of the breast, which can help us detect any tumors or other abnormalities," said Brittany Demeuse, certified mammographer at Prevea Health who cares for patients in the mobile mammography unit. "They play a key role in the detection of breast cancer, a disease in which an estimated 266,120 women have already been diagnosed with this year alone, according to the National Cancer Institute. If we can catch cancer early with a mammogram, it is likely more treatable. Mammograms can even help us detect some forms of cancer before they develop."
All women should talk with their health care provider about the appropriate timing for screening mammograms, especially women who are age 40 or at high-risk. A schedule will be based upon an individual's health. At age 40, any woman may wish to begin regular screening mammograms. By age 45, women should have a screening mammogram and continue to have one at least every other year.
The mobile mammography unit was purchased with funds that were donated by private donors to HSHS St. Vincent/St. Mary's Foundation – the philanthropic, charitable arm of HSHS St. Vincent Hospital and HSHS St. Mary's Hospital Medical Center in Green Bay. HSHS St. Vincent Hospital and HSHS St. Mary's Hospital Medical Center are part of HSHS – Eastern Wisconsin Division, which also includes HSHS St. Nicholas Hospital in Sheboygan and HSHS St. Clare Memorial Hospital in Oconto Falls.
"As a not-for-profit health care system, we rely on donations to help us enhance the care that we provide – whether it be through the addition of new services or the purchase of new technology and equipment, such as the mobile mammography unit," said Therese Pandl, President and CEO of HSHS-Eastern Wisconsin Division. "We are immensely grateful to the donors who made the purchase of this unit possible and are honored to partner with Prevea to deploy it into communities throughout Northeast Wisconsin."
To learn more about the mobile mammography unit, visit: www.prevea.com/mammo