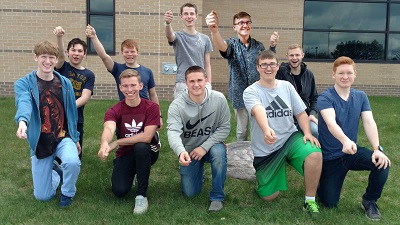 The Wisconsin School Music Association announced in May, 2018 that the Oconto Falls High School Ensemble CHORALE has earned the WSMA EXEMPLARY PERFORMANCE AWARD. The men, representing grades 9-12, sang the three-part (TTB) selection BALLGAME by Albert Von Tilzer, a song based on the popular tune Take Me Out To the Ballgame. This ensemble earned a State First and a perfect score at the UW-Green Bay State Festival, as well as earned a State First on their 4-part (TTBB) performance of Fergus 'N Molly by Vijah Singh.
"I am so proud of these amazing student musicians!  They absolutely love to perform and share their enthusiasm for singing everywhere they go!", commented OFHS Choral Director, Amy Thiel.
This is the first year that the WSMA has included ensembles to be eligible for the honor as top exceptional performances at the WSMA State Solo and Ensemble Festival.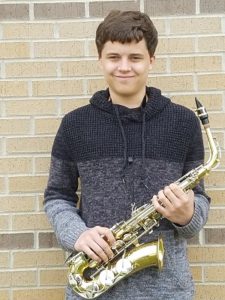 Garrett Wons, son of Bill and Suzie Wons, was recently the recipient of the WSMA Exemplary Soloist Award at the UW-Green Bay State Solo and Ensemble Festival.  Garrett plays alto saxophone and is a junior at Oconto Falls High School.
This is the second year in a row that he has been selected as an exemplary soloist!  He is a member of the Oconto Falls High School Band and will be performing with Wisconsin's Ambassadors of Music European Tour Band this summer.