Oconto Falls has again received a Bronze Level Wisconsin Healthy Communities Designation. Oconto Falls had previously received a designation in 2018 and this renewal is recognition of continued work and programs towards improving local health.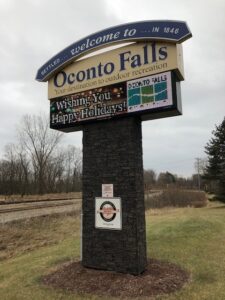 This program is intended to recognize and encourage achievements in health improvement in Wisconsin communities, and to promote cooperation across multiple sectors.
Through the collaborative efforts of the Oconto Falls Area Chamber of Commerce, HSHS St. Clare Memorial Hospital, Bellin Health-Oconto Hospital, and Oconto County Public Health – programs such as the Run for the Trails 5K, 10K, and Half Marathon event; Mental Health First Aid training opportunities within schools, businesses, and organizations; Starlink Pilot Project providing broadband access; planning and financial support of Oconto County Farmers Market; and coordination of Medication Take Back events – improve the health and wellbeing of all.
Gail Yatso, Oconto Falls Area Chamber of Commerce President states, "Our community is proud to be among the 28 Wisconsin communities that received designations this year. Our city is committed to sustain community collaboration to continue to improve health, wellness, and safety in our area."
The designation recognizes Oconto Falls and the bronze level for its commitment to improve health and the quality of life for another three years.
The Healthy Communities Designation program is designed to be accessible to communities of all shapes and sizes, both rural and urban. The definition of community is broad and can include counties, municipalities, neighborhoods and other self-defined, place-based communities in Wisconsin. The program uses a three-tiered approach – gold, silver and bronze – which are meant to provide a trajectory and serve as a guide for communities as they continue to strive toward better health.
"This is a well-deserved recognition for the collaborative efforts to improve community health, fitness, and safety. We continue to create a vibrant community for people to live, work, and explore," says Yatso.
The Wisconsin Healthy Communities Designation is an initiative offered by the Mobilizing Action Toward Community Health (MATCH) group of the UW Population Health Institute (UWPHI), in collaboration with diverse statewide groups. The Healthy Communities Designation program, funded by the Wisconsin Partnership Program of the UW School of Medicine and Public Health, is designed to recognize and encourage achievements in health improvement in Wisconsin. To learn more about the program, visit the program website: www.wihealthycommunities.org