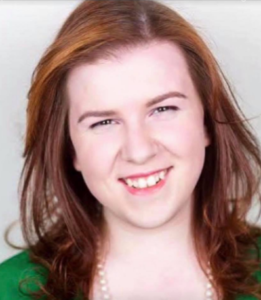 The Oconto Falls Area Chamber of Commerce Board of Directors is pleased to announce they have appointed Elizabeth Jolly to the newly formed position of Director of the Chamber of Commerce. Jolly hails from Abrams, Wisconsin, and is very excited to advocate for the Chamber and champion local businesses in the growing community of Oconto Falls. Duties of this new position will include marketing/communications, being a contact for members and growing membership, being the liaison and face for the Board of Directors to various community groups, and general administrative duties.
Previously Jolly has worked for Heritage Hill State Historical Park in several positions including the Visitor Services Manager and most recently as the Senior Marketing Specialist. She is the daughter of two retired small business owners and also works part-time for her mother's company Syncor Ltd, a wholesale medical goods distributor based out of Abrams, WI. Jolly's educational background is in theatre. She is equally passionate about and involved in her community theater – Abrams Spotlight Productions, Inc. as a director and actor. Her favorite role in the community theater is youth production director.
Jolly says of her new position, "Oconto Falls and the surrounding area has always been my home. A home I am passionate about making the best it can be, and I believe that starts (and ends) with our small businesses. I am excited about getting to know the many businesses in our area, finding out how the chamber can best serve them and our community, and supporting the extremely passionate and talented board of directors."
The Oconto Falls Area Chamber of Commerce (OFACC) is a long-standing community organization comprised of businesses and individuals from communities throughout Oconto County and Northeast Wisconsin.  Its official mission is to be a valid and dynamic link between local businesses and the community. Through this mission, the objectives of the OFACC are to advocate for business interests and to promote business development, city beautification, and tourism. While the growth of the community through business development is key, the OFACC recognizes that activities, events, and recreation are what attract people to the place they choose to live and work.  The chamber maintains annual events such as concerts at the waterfront, a summer golf outing, a fall event connected to the trails and our healthy living community, and more. Oconto Falls has so much to offer! Visit ocontofallschamber.com to learn more.