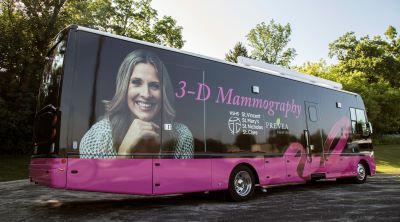 The city of Oconto Falls and its surrounding communities will soon have greater access to breast health screenings thanks to mobile mammography that will be offered on the campus of HSHS St. Clare Memorial Hospital.
Starting Friday, April 2, a mobile mammography unit will travel to the HSHS St. Clare Memorial Hospital Prevea Oconto Falls Health Center located at 835 S. Main St. in Oconto Falls. It will return to this location on the 1st, 3rd and 4th Fridays of each month and the 2nd Monday of each month. Appointments will be available between 8:40 a.m. and 2:40 p.m.
The unit, fully accredited by the American College of Radiology (ACR), is equipped with mammography technology that has the capability to provide 3-D and/or digital images. It also features two changing rooms and a waiting room and is staffed by a registered mammography technologist.
Prevea Health, HSHS St. Vincent Hospital, HSHS St. Mary's Hospital Medical Center, HSHS St. Nicholas Hospital and HSHS St. Clare Memorial Hospital launched the mobile mammography unit in 2018 to provide residents in rural areas greater access to high-quality breast health screenings. The unit also currently travels to:
HSHS St. Clare Memorial Hospital Prevea Gillett Health Center
HSHS St. Clare Memorial Hospital Prevea Lena Health Center
HSHS St. Clare Memorial Hospital Prevea Mountain Health Center
Prevea Marinette Health Center
Prevea Oconto Health Center
Prevea Pulaski Health Center
Prevea Seymour Health Center
Prevea Shawano Health Center
Prevea Kewaunee Health Center
Prevea Manitowoc Health Center
Prevea Plymouth Health Center
Prevea Luxemburg Health Center
Appointments in any of the above-mentioned communities, including in Oconto Falls, can be made now by calling (920) 496-4789. To learn more about the mobile mammography unit, and to watch a video tour of the unit, visit: www.prevea.com/mammo
All women should talk with their health care provider about the appropriate timing for screening mammograms, especially women who are age 40 or at high-risk. A schedule will be based upon an individual's health. At age 40, any woman may wish to begin regular screening mammograms. By age 45, women should have a screening mammogram and continue to have one at least every other year.