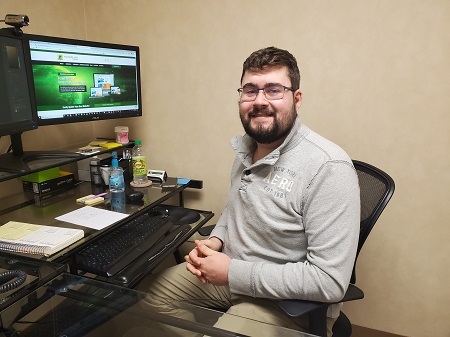 Welcome back, Adam! Packerland Websites welcomed a familiar face to its team in February. Website developer Adam Jeanquart, Packerland Websites' summer intern in 2020, rejoined the team as a website developer. Adam earned a Website Developer Associate Degree in 2020 at Northeast Wisconsin Technical College. In 2019, he earned an Associate Degree in Software Development.
Talented Website Developer
"Adam is a great addition to the Packerland Websites team," said Bill Koehne, owner of Packerland Websites. "He showed a lot of potential during his summer internship and now has the opportunity to build a career as a top-notch website developer. We're happy to offer our clients the talents of Adam and his teammates."
Designing Exquisite Websites
Before joining the world of technology, Adam worked as a baker in Luxemburg, Wisconsin. As a website developer, he enjoys working with clients to make exquisitely designed websites, comparable to well-iced cakes. When he develops a website, Adam has the clients and the clients' audience in mind.
"I try to look holistically at what clients like and work with them as much as I can to satisfy their needs," he said.
Down-to-Earth Personality
Adam lives in Luxemburg and enjoys playing cards and board games, reading, watching movies and shows with family and friends, and doting on his family's puppy.
Contact Us About Internships
Packerland Websites is passionate about giving the next generation of website developers an opportunity to hone their talents in a real-world setting. To learn more about internship opportunities with Packerland Websites or website development in general, contact Bill Koehne at 920-826-5901.