HSHS St. Clare Memorial Hospital invites the community to take in the sights and sounds of a live nativity scene in downtown Oconto Falls on Thursday, Dec. 5.
The live nativity scene, hosted by HSHS St. Clare Memorial Hospital, will take place in conjunction with other holiday-related community events happening along Main St. on Dec. 5, including Christmas Mouse Open House, wagon rides and pictures with Santa.
From 5 to 7 p.m., a group of HSHS St. Clare Memorial Hospital providers and colleagues will gather at the corner of Main St. and Caldwell Ave. to portray Mary and Joseph with baby Jesus, a shepherd, an angel and the Three Wise Men. Live animals will also be a part of the scene, including a donkey and sheep. At 7 p.m., a Scripture reading, featuring the story of the night Jesus was born, will be performed. Then, a collective singing of "Silent Night," will close the special presentation.
Live Nativity Scene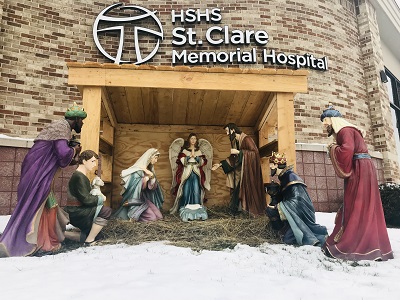 Thursday, Dec. 5
5 to 7 p.m.

Scripture reading and singing of "Silent Night" at 7 p.m.

Corner of Main St. and Caldwell Ave. in Oconto Falls
All community members interested in attending the 7 p.m. presentation are encouraged to stop in to one of the Main Street businesses participating in the Christmas Mouse Open House event the night-of, to pick up a free candle they can hold for the Scripture reading and singing of "Silent Night."