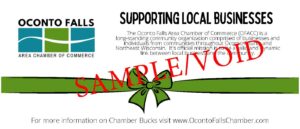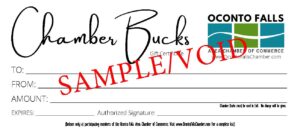 The Oconto Falls Area Chamber of Commerce has launched a new gift certificate program, Chamber Bucks, to encourage community members to shop local!
What are Chamber Bucks?
Chamber Bucks are a gift certificate with monetary value issued by the Oconto Falls Area Chamber of Commerce. They can be used just like cash at participating chamber member businesses. Chamber Bucks are available in $10, $20, or $25 increments.
Chamber Bucks are the perfect gift for any occasion and you are encouraging the gift recipient to shop locally. Whether you want to give your employees an incentive, reward that special teacher or coach, or give a special gift to your family or friends.
How do I spend Chamber Bucks?
Simply present the Chamber Bucks at a participating chamber member business. Spends like cash on goods and services. Chamber Bucks are not redeemable for cash and must be used in their full value as no cash back will be given.
Where can I spend my Chamber Bucks?
Businesses that accept Chamber Bucks as of March 2021:
Antique Bar
Coachlight Inn Motel
Eslien Law Offices
Falls Family Restaurant
The Flower Shoppe
Hometown Veterinary Clinic
MK Photography
N.E.W. Credit Union
Myofascial Trigger Point
NWTC
Oconto Electric Cooperative
Oconto Electric Radio Shack
Oconto Falls Pharmacy
Off Duty Adventures
Packerland Websites
River Island Golf Course
Rocky Ridge Shooters Supply
Salon Carrie
Senn Hometown Insurance Agency
Spaulding Construction
Steel Moose Bar & Grill
United True Value
Witt's Piggly Wiggly
Updated business listings can be found on our website: https://ocontofallschamber.com/chamber-bucks/
How do I buy Chamber Bucks?
Chamber Bucks can be purchased on-line at www.ocontofallschamber.com or at Hometown Veterinary Clinic. Please email or call ahead to make sure they are ready for pick up.
​As a business how do I get reimbursed for Chamber Bucks?
Simply mail or drop off the redeemed certificate to the Chamber for reimbursement. Oconto Falls Area Chamber of Commerce, PO BOX 24, Oconto Falls, WI 54154. Drop off location is Hometown Veterinary Clinic, 180 E Highland Drive, Oconto Falls, WI 54154.