Connor Romandine selected for Missoula Children's Theatre Next Step Prep Program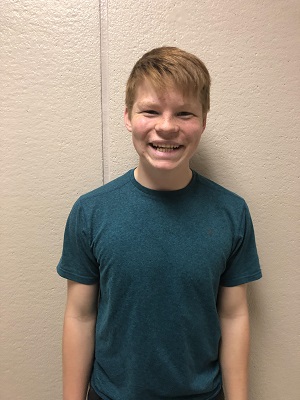 Connor Romandine, son of  Ron and Carrie Romandine, was recently selected to participate in the prestigious Missoula Children's Theatre NEXT STEP PREP program in Missoula, Montana.  The Next Step Prep program is a very unique, practical, high quality program for students who are considering the performing arts as a major in college or as a career.  Combining a focused curriculum of classroom instruction, private voice lessons, and specialty workshops taught by professionals from the worlds of theatre, television, and dance, the Next Step Prep Program is designed to give students the skills needed to prepare themselves for post-secondary studies in the performing arts.
Connor is currently a freshman at Oconto Falls High School and actively involved in the choral music program as a member of Chorale and the Vocal Jazz Ensemble.  He recently earned firsts at the District and State Solo and Ensemble Festival and is a member of the OFHS ensemble CHORALE, which earned a WSMA Exemplary Ensemble award.  In the past nine years, Connor has participated in numerous Missoula Children's Theatre productions sponsored by the Oconto Falls Friends of the Arts and coordinated through the Oconto Falls School District's Summer School program.  He will attend the Next Step Prep program summer session from June 18-July 27.