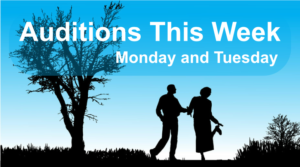 Paul and Corie Bratter are newlyweds in every sense of the word. He's a straight-as-an-arrow lawyer and she's a free spirit always looking for the latest kick. Their new apartment is her most recent find – too expensive with bad plumbing and in need of a paint job. After a six-day honeymoon, they get a surprise visit from Corie's loopy mother and decide to play matchmaker during a dinner with their neighbor-in-the-attic, Velasco, where everything that can go wrong, does. Paul just doesn't understand Corie, as she sees it. He's too staid, too boring, and she just wants him to be a little more spontaneous. Running "barefoot in the park" would be a start…
Auditions will be held on April 9th and 9th 6pm-8pm at the Byng Community Theater, 5852 Maple St in Abrams
The play calls for various roles, both male and female 16 years or older
Schedules will be available at auditions- please bring your calendars
Barefoot in the Park runs June 15, 16, 17 and June 22, 23 and 24
TICKETS ON SALE APRIL 15th!
For further information, please call the Box Office at 920-826-5852 or go to www.abramstheater.com
Newcomers are encouraged to audition! Not interested in being on the stage? Please contact us for opportunities behind the scenes!