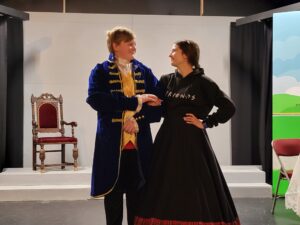 Abrams Spotlight Productions Inc. invites the community to its performance of the Disney musical "Beauty and the Beast Jr." A limited number of tickets are on sale now for this all-youth show. The musical, directed by Elizabeth Jolly, will be presented March 3-6 and 10-13 at the Nancy Byng Community Theater, 5852 Maple St., Abrams. The show is a timeless musical that the whole family can enjoy.
"It's a tale as old as time!" Jolly said. "But seriously, the special effects and immersive qualities are some of the largest we've done at Abrams. However, the show doesn't rest on that. It also has a killer score and fantastically written book with some of the most memorable characters in all of Disney."
The classic story tells of Belle, a young woman in a provincial town, and the Beast, who is really a young prince trapped under the spell of an enchantress. If the Beast cannot learn to love and be loved, he and his household will be doomed for all eternity. Playing some of the lead roles are Betsy Finger as Belle, Brady Cox as the Beast, Nick Blaser as Cogsworth, and Ellie Finger as Mrs. Potts.
"The core leads are all fantastic, but beyond that, the ensemble is also so into it," Jolly said.
There's so much to love in this entertaining show. Katie Jackson, Debra Jolly and their team created amazing, yet easy-to-move-in costumes for youth dressed as drawers, clocks, candles and dishes. The show also features new special effects from Tech Director David Jolly and "set" pieces in the audience that were constructed largely by parent volunteers. Kelly Klein, Allison Schoel, Kate Masson, and their team did the beautiful scenic painting and design. These individuals are only a small number of the volunteers contributing to the show.
Disney's "Beauty and the Beast Jr." is presented through special arrangement with Music Theatre International (MTI). All authorized performance materials are also supplied by MTI.
To order tickets, visit abramsspotlightproductions.com or call the box office, 920-826-5852.