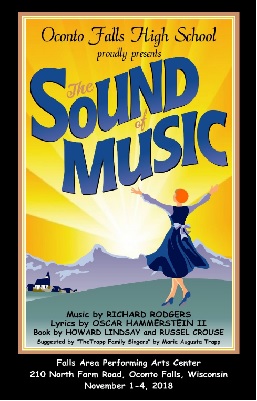 The final collaboration between Rodgers & Hammerstein was destined to become the world's most beloved musical.  When a postulant proves too high-spirited for religious life, she is dispatched to serve as governess for the seven children of a widowed naval Captain.  Her growing rapport with the youngsters, coupled with her generosity of spirit, gradually captures the heart of the stern Captain, and they marry.  Upon returning from their honeymoon they discover that Austria has been invaded by the Nazis, who demand the Captain's immediate service in their navy.  The family's narrow escape over the mountains to Switzerland on the eve of World War II provides one of the most thrilling and inspirational finales ever presented in the theatre.  The motion picture version remains the most popular movie musical of all time.
The cast includes Andrea Waschbisch as Maria Rainer, Keith Van Dornick as Captain Georg Von Trapp, Aidan Spillane as Max Detweiller, Catelyn Kramer as Elsa Schraeder, and Connor Romandine as Rolf Gruber.  The Von Trapp children include Lyndsey Luebke as Liesl, Aaron Gonnering as Friedrich, Khloe Van Dornick as Louisa, Alex Waschbisch as Kurt, McKenzie Jackson as Brigitta, Autumn Canavera as Marta, and Jessica Wolford as Gretl. Paige Stapleton portrays Mother Abbess, with Cameron Mercier as Sister Berthe, Isabella Rennie as Sister Margaretta, and Cedar Olson as Sister Sophia.  Nuns and Postulants in the chorus include Novalee Bauer, Madeline Dorn, Lydia Romback, Lauryn Slade, Grace Williams, Carina Wirtley, and Haley Schwantes, who also portrays Frau Schmidt and Ursula.  The cast also includes Simon Pumplun as Herr Zeller, Dakota Brungraber as Franz and a soldier, and Josh Czerwinski as Admiral von Schreiber and Baron Elberfeld.  The pit band for the production includes Melody Kostreva on piano, Laurie Karnopp on synthesizer & strings, Victoria Athey on flute/piccolo, Samantha Landvick on clarinet, Kayle Hines on soprano saxophone, Greg Schliep, Emily Gonnering, and Gabby Wellnitz on trumpet, Kelly Hasselhuhn and Carli Fischer on French horn, Danny Smith and Maddie Haines on trombone, Paul Langlay on tuba, Jerry Wirtley on string bass, and Jeremy Seelig on percussion.   This year's set construction crew includes Alex Barbin, Jacob Saari, David Kaczmarek, and Chase Pecha.  Technical/Backstage crew includes Paige Renier and Emma Bliskey as stage managers, Cade Ruthsack, Allison Gerlach, Donovan Kamke, John Wolford, and Gayle Gander.
Directors for THE SOUND OF MUSIC are Amy Thiel (Vocals/Technical/Set & Props), Susan Seidl (Drama/Technical/Set & Props), Victoria Dominguez (Pit Band), and David Heisel (Construction).  Laura Kostreva is the choreographer.
Several OFHS parent volunteer teams have also assisted with the production, including:  Carrie Romandine and Pam Jackson – raffle team coordinators;
Dwyla Slade and Nikki Stapleton – publicity team coordinators; Ron Romandine and Kris Luebke – prop team coordinators; Carolyn Kramer and Wendy Van Dornick – Saturday evening reception team; and Michelle and Mary Dorn – Seamstress team. Additional parent/community team volunteers include Bev Schwantes, Sue Waschbisch, Patrick and Julie Spillane, Mike Stapleton, Sue Gonnering, Jerry and Krista Wirtley, Paul Luebke, Erika Bauer, Heather Rennie and Bev Umentum.
2018 Performances will be held on:
Thursday, November 1 at 7 p.m.
Friday, November 2 at 7 p.m.
Saturday, November 3 at 7 p.m.
Sunday, November 4 at 2 p.m.
All performances will be held at the Falls Area Performing Arts Center, located at Oconto Falls High School, 210 North Farm Road, Oconto Falls.
Tickets are $12 for adults and $8 for children/students are available in the OFHS Main Office between 8 a.m. – 4 p.m. daily.  Tickets will also be available 1 hour before each performance at the door.  All seats are General Admission.  Doors will open 30 minutes prior to the performance.