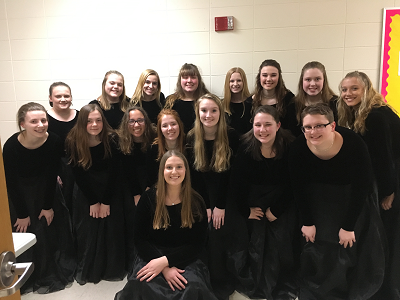 16 Oconto Falls High School Choir students recently participated in the M & O Music Conference and Near North Music Conference Treble Honors Choir. The festival, held at Gillett High School, included three schools from the M & O Conference – Gillett High School, Suring High School and Coleman High School, and three schools from the Near North Music Conference – Oconto Falls High School, Marinette High School and St. Thomas Aquinas Academy. Participating choral directors included Abbygaile Jadin (Gillett HS), Kaci Halverson-Boehmer (Suring HS), Kathleen Bader (Coleman HS), Amy Thiel (Oconto Falls HS), Cyndee Giebler (Marinette HS), and Susan Thornton (St. Thomas Aquinas Academy).
The area choir students worked together for the day-long festival and presented a Treble Honors Choir concert in the Meunier-Pelow Auditorium at Gillett High School. Performance selections included Omina Sol (Let your Heart Be Staid) by Z. Randall Stroope, Bashana Haba'ah arranged by V. Pasternak, No Time arranged by Susan Burmfield, Faithfully by Jonathan Cain, and Changes by Audrey Snyder.
Dr. Sarah Parks, Professor of Music at St. Norbert College in DePere served as the clinican and conductor for the Treble Honors Choir. She joined the music faculty of St. Norbert College in 2009 as head of choirs and choral music education. Her college choirs have toured regionally and internationally, most recently to Cape Town and Johannesburg, South Africa. The St. Norbert College Chamber Singers have been selected as a featured performance ensemble for WMEA and WCDA state conferences and the choirs have been invited to perform on stage with distinguished musical artists, ranging from John Rutter to Kenny Rogers.
Student participants from Oconto Falls High School included: Christina Bauer, Emma Bliskey, Autumn Canavera, Madeline Dorn, Hope Hujet, Catelyn Kramer, Isabella Rennie, Lydia Romback, Mackenzie Staidl, Paige Stapleton, Laken Wall, Andrea Waschbisch, Jesalynn Wilkerson, Grace Williams, Carina Wirtley, and Charis Wirtley.
Other area student participants included: Camilla Doherty and Grace Fischer (Suring High School); Livia Benson, Halle Beranek and Karah Nelson (St. Thomas Aquinas Academy); Jerika Heroux and Myriah Marohl (Gillett High School); Mckenzie Champagne, Gabrielle Meyer, and Coral Ermis (Coleman High School); and Kayden McClurg, Kandyce Mitchell, Skylar Norman, and Lily Teske (Marinette High School).