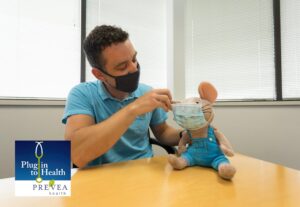 Wearing a cloth mask, in addition to practicing physical distancing and frequent handwashing, plays a critical role in curbing the spread of COVID-19 in our communities.
HSHS St. Vincent Children's Hospital and Prevea Health offer the following guidance for parents and caregivers in helping children become more comfortable with wearing a mask.
Should all children wear a mask?
Children under the age of 2 should not wear a mask due to suffocation and choking hazards. In addition, parents of children with cognitive or respiratory impairments should exercise caution with masks for their children. If you have any questions or concerns about whether your child is healthy enough to wear a mask, it is important you consult with their primary care physician.
How can I help my child become more comfortable and/or less afraid of wearing a mask?
One of the most effective ways to help your child become more comfortable with wearing a mask is by being a role model. When you also wear a mask, and do so with a positive attitude, your child is likely to follow your lead! Here are some more helpful tips to help your children become more comfortable with masks:
Look in the mirror with your child while you each wear a mask, and talk about it.
Put a mask on a favorite stuffed animal.
Decorate the child's mask(s) so they're more personalized and fun.
Show your child pictures of other children wearing masks.
Draw a mask on their favorite book character.
Practice wearing the mask at home to help your child get used to it.
How can I talk to my child about wearing a mask?
The American Academy of Pediatrics (AAP) recommends that for children under the age of 3, it's best to answer their questions simply in language they understand. If they ask about why people are wearing masks, explain that sometimes people wear them when they are sick, and when they are all better, they stop wearing them.
For children over the age of 3, the AAP recommends you focus on germs. Explain that germs are special to your own body. Some germs are good and some are bad. The bad ones can make you sick. Since we can't always tell which are good or bad, the masks help make sure you keep those germs away from your own body.
Additional resources:
Dr. Josh Rankin, pediatrician at Prevea Health, recently shared these tips and much more on our most recent episode of Plug in to Health, Kids and Masking. Plug in to Health is a podcast produced by Prevea Health and available on major podcasting platforms such as Apple and Google Play, and at: www.prevea.com/podcast
Prevea Health has more resources dedicated to helping adults and children navigate mask-wearing, including: How masks work, how to clean cloth masks, avoiding fogging glasses and skin irritation, and debunking mask myths. All of these resources are available in one convenient location at: www.prevea.com/masking