On Tuesday, Nov. 6, the St. Gianna Clinic, in collaboration with the Green Bay Diocesan Office of Marriage, Family Life and Pro-Life, will host the 4th Annual Gala at the Meyer Theatre in Green Bay.
The evening gala will feature Mass with Bishop David L. Ricken, a social with hors d'oeuvres and cash bar, and speakers, Dr. Gianna Emanuela Molla and Dr. Teresa Stanton Collett. The event will benefit the St. Gianna Clinic, a not-for-profit, Catholic-based health care clinic located at 1727 Shawano Ave. in Green Bay. It was established in 2015 and offers primary medical care for adults and children, women's care and natural family planning services. All medical care provided at the St. Gianna Clinic aligns with the teachings of the Catholic Church and serves people of all faiths.
The St. Gianna Clinic is named after St. Gianna Beretta Molla who was canonized by Pope John Paul II in 2004 and is considered the patron saint of mothers, physicians and unborn children. St.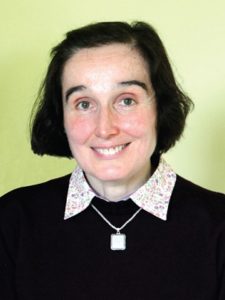 Gianna, a physician, died in 1962 following the birth of her fourth child, Gianna Emanuela Molla. During her pregnancy, St. Gianna was diagnosed with a tumor in her uterus and told by doctors she risked death if she followed through with the birth of her child. Intent on saving the life of her unborn child, St. Gianna chose to continue her pregnancy and died one week after the birth of her daughter. That daughter, Dr. Gianna Emanuela Molla (pictured at right), will be a featured speaker at the gala Nov. 6.
"It is with deep-felt honor and gratitude that we are able to welcome Dr. Gianna Emanuela Molla to the city of Green Bay and to the gala," said Dr. Robin Goldsmith, the co-founder, president and chief medical officer of the St. Gianna Clinic in Green Bay. "She will be able to see and learn first-hand, the lifesaving, life-changing work our clinic and our wonderful physicians perform each day in the name and honor of her mother and of the Catholic Church."
Dr. Teresa Stanton Collett, a professor at the University of St. Thomas School of Law in Minnesota who specializes in the subjects of marriage, religion and bioethics, will also speak at the gala. Her presentation will focus on "Thinking Outside the Pill: Humanae Vitae for the Next Generations." In addition, Bishop David Ricken's Mass at the gala will celebrate the 50th Anniversary of Humanae Vitae – Pope Paul VI's encyclical on God's plan for married love and procreation.
Gala attendees will also have the opportunity learn more about the expansion project underway at St. Gianna Clinic, which aims to create more space and enhance services for its growing patient base.
All details for the upcoming gala can be found below. Tickets are $10 for students and $25 for adults. Registration is requested by Monday, Oct. 29 at: www.stmgb.org/gala
St. Gianna Clinic 4th Annual Gala
Tuesday, Nov. 6
5:30 p.m. – Mass with Bishop David Ricken
6 p.m. – Hors d'oeuvres and cash bar
7:15 p.m. – Guest speakers: Dr. Gianna Emanuela Molla and Dr. Teresa Stanton Collett
Meyer Theatre – 117 South Washington St., Green Bay