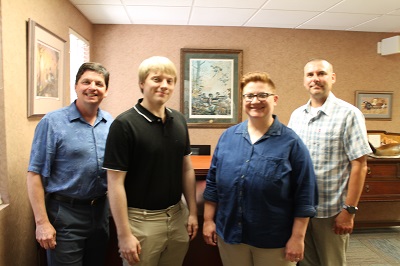 Packerland Websites is growing. Two experienced website designers, Tom Norman and Miranda Schlise-Gomez, have joined the staff. The website builder now employs three full-time developers who create powerful, effective websites for businesses, nonprofits and municipalities.
"Having three full-time developers on staff gives our company a wide breadth of abilities and deep scope of talent," said Bill Koehne, owner of Packerland Websites. "It also allows me to shift my focus from developing sites to developing business strategies and goals for each client. We have so much more to offer clients today than I imagined eight years ago when we opened."
Norman, of Green Bay, worked in the security field for 15 years before changing careers to web development. In 2013 he earned a Web Development Certificate at Northeast Wisconsin Technical College. He has nine years of experience designing websites.
"I enjoy trying new processes and can adapt to new and unknown situations," Norman said. "Every project is different. Different design, issues, challenges. I really love the building process, putting it all together."
Norman also enjoys working with varied clientele who look to Packerland Websites to grow and promote their business or organization.
"Each client is unique in their needs and behaviors which makes every interaction important," he said.
In his free time, Norman enjoys reading, writing, watching sports, playing video games and doing woodworking and refinishing projects.
Schlise-Gomez, of Green Bay, graduated in 2017 from NWTC with an Associate Degree in Web Development. She was previously employed as a web developer for an Oshkosh advertising agency. Schlise-Gomez said she enjoys the "puzzle aspect" of designing websites.
"There is always a new piece to put together," she said. "When it comes to working with clients, I enjoy the satisfaction on their face when they see their website come to life."
She tackles web development from a practical standpoint, integrating the technical and artistic elements into a unified package.
"My approach is to find out what the client needs and do my best to accomplish it," she said.
After hours, Schlise-Gomez enjoys playing guitar, singing, and writing songs. She also enjoys the challenge of Escape Rooms and the excitement of attending Brewers games.
With the addition of two developers, Packerland Websites is ready to serve more clients at its Green Bay and Abrams offices. Contact the website professionals at 920-826-5901 or Bill@PackerlandWebsites.com.