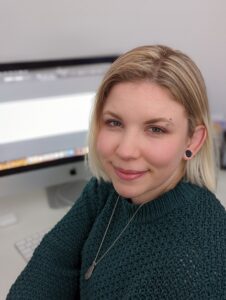 Alexa Haferkorn has joined the Packerland Websites team as a WordPress web developer and design specialist. Oconto County-based Packerland Websites specializes in website design, Search Engine Optimization, and digital marketing strategies.
A Little Chute native, Haferkorn earned a Bachelor of Fine Arts in Graphic Communications at Northern Michigan University in 2016. She previously worked as a Website and Brand Designer at 906 Technologies and a Graphic Designer and Marketing Assistant at Beth Millner Jewelry. Additionally, Haferkorn worked at Packerland Websites as a WordPress web developer for one year.
Bill Koehne, owner of Packerland Websites, said Haferkorn understands what businesses and nonprofits need to maintain a dynamic online presence.
"With her background in graphic design and website development, Alexa brings a combination of talents to Packerland Websites," he said. "Aside from her technical and artistic skills, she has a knack for communicating with customers to help them create websites that meet their business goals."
"I'm a creative web designer inspired by bold voices and great passions," Haferkorn said. "I want to take my client's business goals and create an environment for them to come to life and connect with the world. I love learning how people think about media and react to visual experiences, which helps me design compelling websites for specific audiences."
In addition to her work at Packerland Websites, Haferkorn enjoys spending time in the outdoors, especially hiking, biking, and skiing. She also enjoys all things artsy and crafty, so she spends time creating artwork and visiting local art fairs and shows.
To grow your business or organization with a new or rebuilt website or SEO strategies, contact Alexa Haferkorn at Packerland Websites, 920-393-3156.