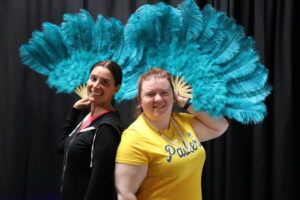 Abrams Spotlight Productions Inc. invites the community to its performance of Irving Berlin's "White Christmas." Tickets are on sale now for this tale of joy and goodwill. The musical, directed by Debra Jolly, will be presented Dec. 1-4 and 8-11 at the Nancy Byng Community Theater, 5852 Maple St., Abrams.
"'White Christmas' is a long-time tradition for those of us who remember the beloved movie televised every Christmas and remember the sacrifices made by the soldiers and those on the home front of World War II," Jolly said. "It is about longing for home and family and love, especially when you are far away, not knowing when or if you will get home again."

Veterans are an important part of "White Christmas," and a generous donor gifted 50 free tickets for veterans. Veterans are encouraged to call the box office, 920-826-5852, to reserve free tickets while supplies last.

"We are proud to honor all veterans and thank them for their service as we offer all our audience members this classic story for Christmas," Jolly said.

"White Christmas" is a story about a song-and-dance team, played by Bobby Buffington and Preston Pelegrin, who put on a show in a Vermont inn and fall for a stunning sister act, played by Elizabeth Jolly and Ali Carlson. The show is full of dancing, laughter, and some of the greatest songs ever written. The score features "Blue Skies" and of course, the unforgettable title song, "White Christmas."
"The songs are great, and the harmonies this cast produces are amazing," Jolly said. "The dancing includes tap, jazz, ballroom and ballet – something for everyone."
The colorful costumes ring true to the happy 1950s look.
"The number of costumes required is daunting, especially with a community theater budget and a theater building that needs a new roof, but we had a wonderfully hard-working and frugal costume crew to make it work," Jolly said.
New at the theater for this performance is a side stage to keep the show moving seamlessly through scene changes. Also new is a winter-themed special effect.

"We will have snow for this 'White Christmas!'" Jolly said.

"White Christmas" is based on the Paramount Pictures film and is written for the screen by Norman Krasna, Norman Panama, and Melvin Frank. Music and lyrics are by Irving Berlin, with book by David Ives and Paul Blake. "White Christmas" is presented by arrangement with Concord Theatricals. www.concordtheatricals.com.
To order tickets, visit abramsspotlightproductions.com or call the box office, 920-826-5852.