Abrams Spotlight Productions Inc. has postponed the upcoming musical "My Fair Lady." Future show dates are currently being reviewed.
The suspension is in support of the well-being of the theater-going public as well as those who work on the production, subject to ongoing assessment by county and state health authorities. ASPI takes the health and safety of our patrons, staff and community seriously and urge everyone to follow the guidelines set forth by public health officials.
ASPI customers with tickets to the show will be contacted via phone or email with further information.
Abrams Spotlight Productions Inc. will present the award-winning Broadway musical, "My Fair Lady," March 20-22 and 27-29. Originally produced in 1956, "My Fair Lady" depicts the transformation of Eliza Doolittle under the tutelage of Professor Henry Higgins. Alan Lerner and Frederick Loewe's most popular musical collaboration earned nine Tony Awards, including Best Musical.
Director Tim Rutten- Kempees described "My Fair Lady" as a classic Broadway show known for its songs, including "I Could Have Danced All Night," "Get Me to the Church on Time," and "The Rain in Spain."
"There's so much to enjoy about this show, but in particular will be the music and dancing," Rutten- Kempees said. "I look forward to the audience leaving after curtain call humming their favorite tune from the show."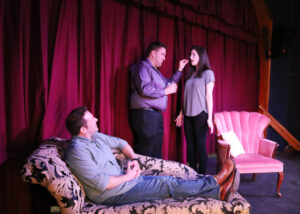 The cast of "My Fair Lady" represents a mix of ages from 10 to 60-plus and features newcomers and returning veterans with a diverse range of experience. Portraying the lead roles of Eliza and Professor Henry Higgins are Abby Frank and Bobby Buffington.
Showtimes are 7 p.m. Friday and Saturday, March 20, 21, 27 and 28, and 1 p.m. Saturday, March 21 and 28, and Sunday, March 22 and 29, at the Nancy Byng Community Theater, 5852 Maple St., Abrams. The audience is invited to an opening night gala after the March 20 performance. The gala features complimentary hors d'oeuvres and refreshments with the cast and crew.
Tickets are available at AbramsTheater.com or by calling the box office, 920-826-5852.
The show is presented by arrangement with Tams-Witmark, a Concord Theatricals Company.