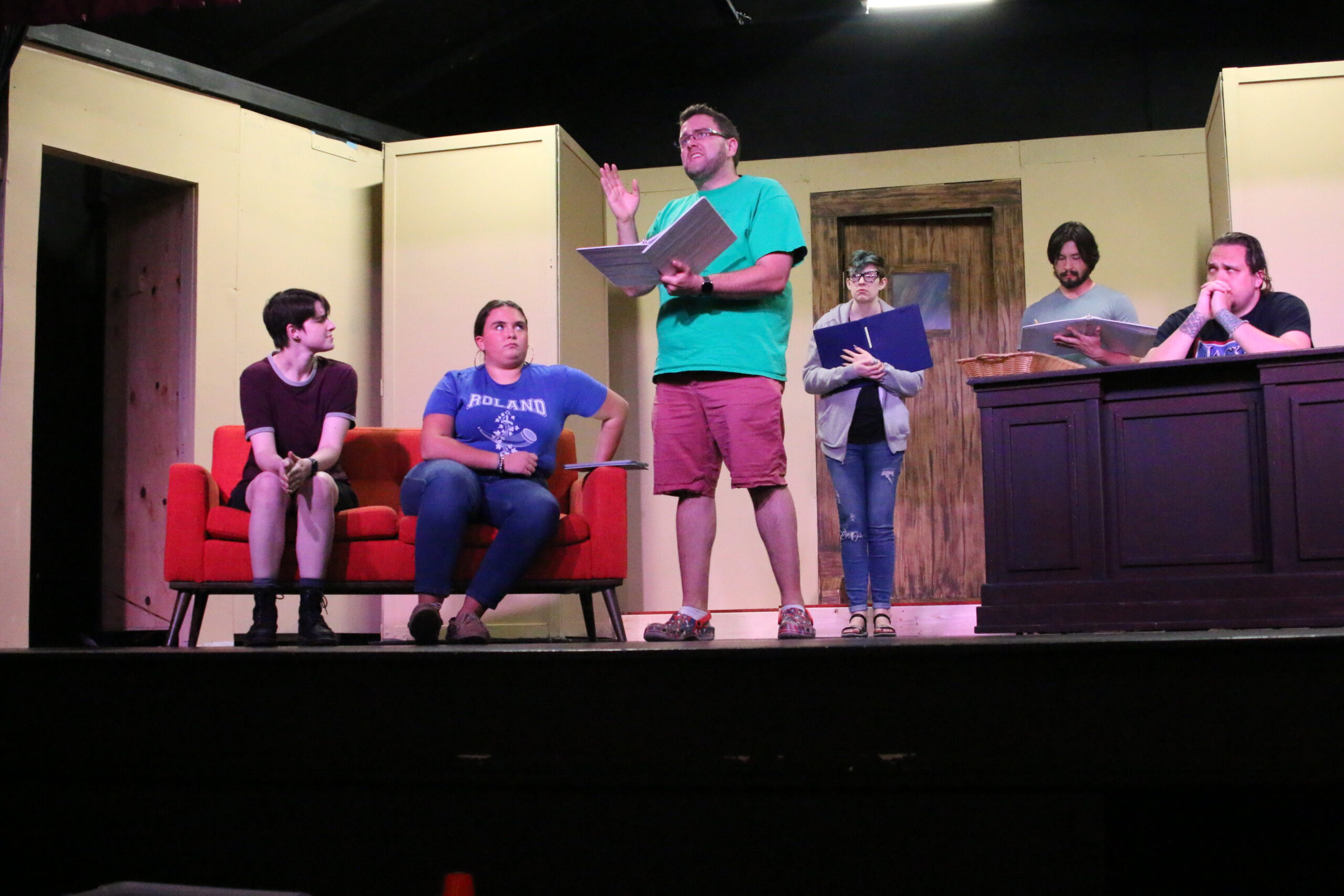 Rehearsing for the Abrams Spotlight Productions Inc. summer comedy, "Lustful Youth," are, from left, Abby Frank, Sydney Surber, Bobby Buffington, Maggie Monte, Travis Rysewyk, and Will Knaapen. The show will be performed June 8-11 and 15-18 in Abrams.
Abrams, WI May 29, 2023: Abrams Spotlight Productions Inc. invites the community to experience comedy chaos in the performance of "Lustful Youth." Tickets are on sale now at abramstheater.com or by calling 920-826-5852. The show will be presented June 8-11 and 15-18 at the Nancy Byng Community Theater, 5852 Maple St., Abrams. An Opening Night Gala exclusively for Spotlight Sponsors and 2023 season ticket holders will be held from 5-6:15 p.m. Thursday, June 8, at the theater.
"Lustful Youth" is a fast-paced farce that tells the story of Walt, a television statistician who is contractually obligated to write an evening soap opera. With the help of his muse, Dill, he wanders in and out of realities as he pieces together an out-of-control romp. This clever comedy is written and directed by Mike Eserkaln, the artistic director of Comedy City in De Pere.
"This cast had done a wonderful job bringing their characters to life," he said. "I know people are going to love this show. It's a wild ride of comedy."
Written in 1994, "Lustful Youth" has been performed in Northeast Wisconsin, Canada and Australia. Eserkaln said the audience will enjoy the chaos of the show, as Walt dutifully writes a soap opera that quickly spirals out of control.
"He's not allowed to do rewrites, so whatever crazy thing that he puts into the show he has to keep. The ideas keep piling up and – chaos," Eserkaln said.
The cast features six experienced performers, who play various roles.
"Because of the way Walt is writing the show, they keep having to be different and new characters. They each get to play at least three distinct characters," Eserkaln said. "Lustful Youth" is the second show of the 20th season of Abrams Spotlight Productions Inc., a community theater organization in Abrams. The theater currently is conducting a Raise the Roof campaign to raise over $30,000 for a new roof. Donors can choose from four sponsorship levels: Silver ($100), Gold ($250), Platinum ($500), or Corporate ($950 per show). ASPI is a volunteer-led 501(c)3 organization that relies on donations, ticket sales, and fundraising to operate. To become a Spotlight Sponsor or donate to Raise the Roof, visit Abramstheater.com and click "Support."