The Oconto Falls High School Music Department was proud to sponsor the 30th annual Community Halloween Party for children in Oconto Falls and the surrounding areas on Monday, October 21.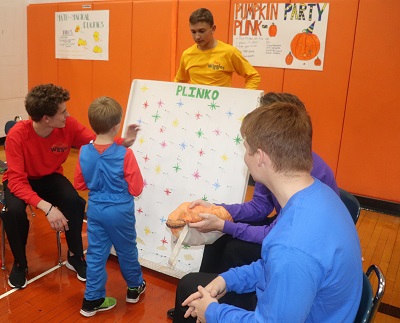 Over 375 children in grades Pre-school through grade six attended the event, along with over 400 parents, grandparents, and other family members! The Halloween Party was held in the OFHS Wrestling gym. Many creative games were organized, designed and operated by over 120 high school students who represented the OFHS Music Department and members of the OFHS Chamber Singers, Cantabile, Chorale, Concert Choir, Vocal Jazz Ensembles, Symphonic Band, and Jazz Band. Children and adults generously donated hundreds of canned food items for the Kingdom Come Food Pantry as part of their admission. Special thanks to area businesses and individuals who made donations toward this safe and fun event for our area children.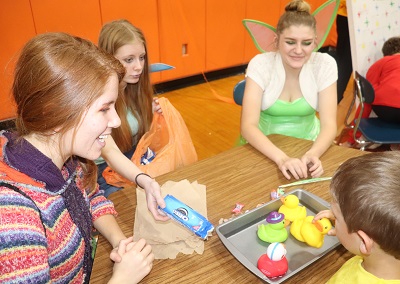 Participating area businesses, organizations, and individuals joining the OFHS Music Department in donating toward the event were the following: ORGANIZATIONS— American Legion Eick-Sankey Post 302, American Legion Auxiliary Unit 302, OFHS Band, OFHS Choir, and the Oconto Falls Lions Club; INDIVIDUALS— Terry Bitters, Joe and Monica Gostisha, Tom and Karen Lutz, Bob and Laurie Maloney, Don and Judy Osborne, Ron and Carrie Romandine, and Terry and Bev Umentum; BUSINESSES—The Antique Bar, Coachlight Inn, Flower Shoppe II, Howard Eslien Law Office, Jones Funeral Service, Luisier Drilling, Inc., Marquardt Auto Service, Mortell Studio, N.E.W. Credit Union, Oconto Electric Cooperative, Oconto Falls Insurance Center, Senn Hometown Insurance, United True Value, and Witt's Piggly Wiggly. MEDIA SUPPORT was appreciated from the Oconto County Times Herald, Oconto Reporter, WOCO Radio, Chamber of Commerce, Roger Birr, and Bill Koehne. Amy Thiel, OFHS Choral Director and Victoria Dominguez, OFHS Band Director are very proud of the Choir and Band students and their involvement and dedication to this outstanding community event! The OFHS Music Department continues to sponsor the "Community Halloween Party" with area businesses as their way of saying "thank you" to the community for their tremendous support of music activities throughout the year!