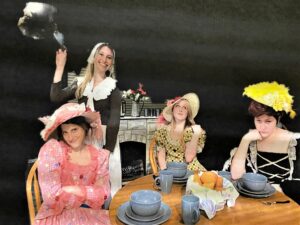 Oconto Falls High School is proud to present the Rodgers and Hammerstein musical CINDERELLA from November 4-7, 2021.

In this enchanting musical from the legendary team of Richard Rodgers and Oscar Hammerstein II, beautiful young Cinderella finds her life of drudgery at the hands of her stepmother and two wicked stepsisters changed forever in one evening, thanks to a fairy godmother and a handsome prince. The story is based upon the fairy tale Cinderella, particularly the French version Cendrillon, ou la Petite Pantoufle de Verre, by Charles Perrault and was originally presented on CBS-Television on March 31, 1957. Musical performances include favorites In My Own Little Corner, Stepsister's Lament, Do I Love You (Because You're Beautiful), and Impossible.
This year's musical production includes: Cast—Cinderella—McKenzie Jackson; Prince—Timothy Cornette; Queen—Alexandra Brown; King—Jessie Pumplun; Stepmother—Kleo Van Dornick; Stepsister Joy—Kate Pytleski; Stepsister Portia—Paityn Keller; Godmother—Faith Shamburek; Herald—Grace Shamburek; Chef—Gunar Lade; Steward—Matt Ogan; Footman – Ethan Rennie; Townspeople/Chorus— Abigail Budz, Alexis Gilbert, Gwendolyn Maggio, Ireland Payette, Leah Vorpahl, and Jessica Wolford; and Time Keepers at the Ball – Landon Budz and Cole Gilbert

Pit Band members include Ashlynn Vanderheyden – flute, Brianna Brzezinski – flute, Grace Aprill -flute, Ana Feliz – clarinet, Pauline Cameron –Oboe/Bassoon, Ryan Johnson – Trumpet, Orion Posusta -Trombone, Gabe Cameron – Euphonium, Kaelyn Rakowski – Percussion, Max Baade – Percussion, Jocelin Martinez – Percussion, and Erin Jahnke – Pit Band Assistant, with guest musicians Mr. Greg Schliep – trumpet, Mrs. Kelly Haselhuhn – French horn, Mr. Danny Smith – Euphonium, Mrs. Laurie Karnopp – Piano/Strings, and Mr. Grant Colburn – Piano.
Tech Crew & Set Construction members include John Wolford, Justin Spaulding, Lillian Holley, Isaac Raddatz, and Emersyn Payette, with Stage Manager – Emily Riebe, Assistant Stage Manager – Allissa Stanek, and Mr. Gayle Gander assisting.

The Musical Production Team includes Miss Amy Thiel and Miss Susan Seidl, Musical Directors; Miss Lauren Seidl, Pit Band Director; Mrs. Laura Kostreva, Choreographer; and Mr. David Heisel, Set Construction
2021 Performances will be held on Thursday, November 4 at 7 p.m.; Friday, November 5 at 7 p.m.; Saturday, November 6 at 7 p.m.; and Sunday, November 7 at 1 p.m. All performances will be held at the Falls Area Performing Arts Center, located at Oconto Falls High School, 210 North Farm Road, Oconto Falls.
Tickets are $12 for adults and $8 for students (gr. 4K-12)/children and may be purchased in the OFHS Main Office from 8:00 a.m. – 3:30 p.m. Monday through Friday. Tickets are also now available online at https://ofps.revtrak.net/ by clicking on PAC TICKET BOX OFFICE. Online tickets will be available for pickup at the PAC Box Office WILL CALL area one hour prior to the performance. All seats are GENERAL ADMISSION. The PAC doors will open 30 minutes prior to each performance.
SPECIAL EVENTS:
On Friday, November 5, children attending the performance are asked to dress as their favorite Cinderella character! A special "meet and greet" with the cast and chorus will be held after the performance in the Commons Area.

On Saturday, November 6, community members who were part of the 2008 musical production will be recognized and a reception will be held after the performance.

As our we continue to focus on community outreach, each performance will feature a 50/50 raffle and numerous bucket raffles, with proceeds going toward musical expenses and a portion of the proceeds being donated to support our veterans in the American Legion Eick-Sankey Post 302. We will also have flowers available for sale at each performance, courtesy of the Flower Shoppe II in Oconto Falls.

Mark your calendar and don't miss this year's musical production! Remember… "Impossible things are happening every day!"
For more information, please call Oconto Falls High School at (920) 848-4467. We are very excited about this musical production and look forward to seeing you at the performances!